Host city and organization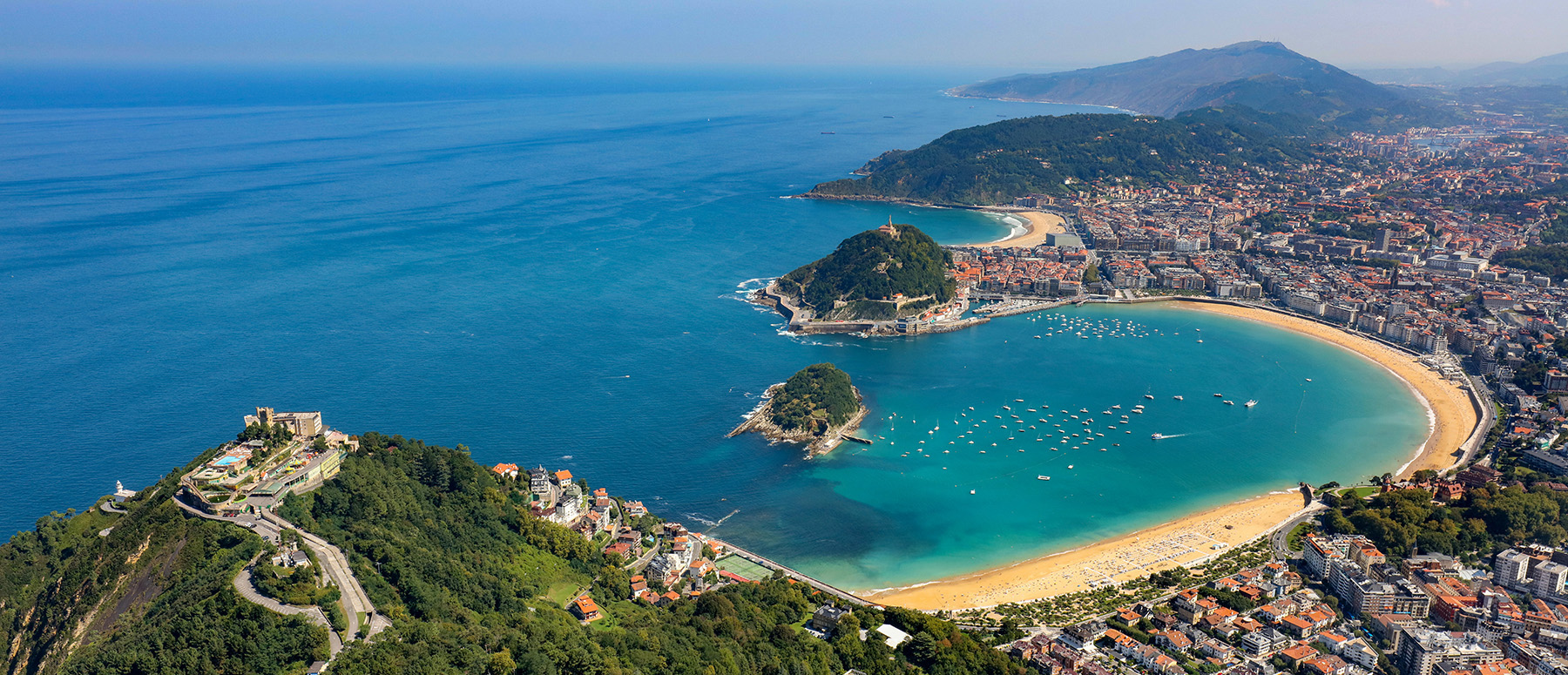 San Sebastián (Donostia in Basque) is a medium-sized cosmopolitan city (186,700 inhabitants). It is renowned for its cuisine, award-winning urban beaches and Parisian-inspired architecture. The city is well prepared to welcome demanding visitors who want it all: high-quality services, unique spaces, memorable experiences and a full range of cultural and leisure opportunities.
How to arrive
By plane
There are 3 airports less than 100km away from the city.
Only 20 kilometers from the city centre, San Sebastián Airport has connections to the major Spanish cities; Madrid and Barcelona.
Bilbao Airport, with connections to all Europe, is 105km from the city, and Biarritz Airport, served by French and international low-cost companies, 47km.
To get by train or by car
Donostia / San Sebastián - Convention Bureau: Location and how to arrive
How to move around the city
Walking
San Sebastián is people-friendly; it is easy to get around using the public transport services that connect the different parts of the city.
Taxis
San Sebastián has a large and modern fleet of taxis available 24hrs a day. The rates are official and operate with a taxi meter. In San Sebastián, unlike in other cities, taxis do not normally stop when hailed in the street.
Public transport
San Sebastián has a large city bus fleet run by the company Dbus for cheap, fast and easy city travel.
Timetable
The times change depending on the line. Most services start at 07h30 and end at 22h30. The times and frequency of the different services can be found at the respective bus stops.
Dbus runs a night service known as the "Búho" (Owl). Most of the night bus lines start at 12 o'clock midnight and end at 4 in the morning. The Búhos only run on Fridays, Saturdays and the nights before public holidays. All leave from the Boulevard.
Tourist Card
The TouristCard is the master key to the city.
The TouristCard marks the difference between visiting or getting to know San Sebastián and Gipuzkoa.
You can use the TouristCard on public transport, and it offers you excellent discounts in museums, restaurants and shops.
Practical information
Currency
Euro, commonly used throughout the European Union.
Time zone
GMT + 1 (Paris).
Electric network
In San Sebastián, the common voltage is 230 V. The frequency is 50 Hz. Plugs and sockets are type F.
Healthcare
Hospital Donostia and Policlínica Gipuzkoa - Grupo Quirón Salud.
Water
Tap water is high-quality and drinkable.
Telephone - Use of mobile phones
There are no roaming charges in the European Union. If you have a SIM card from a member state of the EU, you will be able to use your phone with no additional charges for calls, texts or internet use in any other member state.
Wifi
No password in the majority of establishments and meeting venues. Available outdoors in gardens, streets, markets, squares and bus stops.
Map of the free municipal Wi-Fi areas
Banks and cash
More than 180 bank branches are open on midweek mornings.
There is an extensive network of 24-hour cash machines, meaning you can take money out whenever you like.
Bureau de change
Bureau de change Navinet (C/Narrika, 12). Open from 10:00 to 22:00, Monday to Sunday (exchange only available for U.S. dollars and British pounds).
Taxis
Taxis usually allow clients to pay with a bank card; however, we suggest asking before getting in.
Tourist tax
There is no tourist tax.
Opening hours
The shops are open from Monday to Saturday. The normal opening schedule is from 10 a.m. to 2 p.m. and then from 4.30 p.m. to 8 p.m. Shopping centres do not usually close at lunch time, with usual opening hours of 10 a.m. to 10 p.m.
Lunch and dinner times tend to be later than other European destinations. Restaurants usually serve lunch between 1.30 a.m. and 3.30 p.m. and dinner between 8 p.m. and 11 p.m. You are not obliged to leave a tip. Feel free to leave a tip if you feel that the service was satisfactory.
Pintxo bars remain open all day; however, pintxos are served from 11 a.m. until well into the night (11 p.m.).
Night-time activities: bars (La Gintoneria Donostiarra, Museo del Whisky, gastropubs and chill-out bars) close at around midnight during the week. On the weekends, bars are permitted to remain open until 2 a.m.
Terraces in San Sebastián: during low season, terraces remain open until 10.30 p.m. from Sunday to Thursday, and until 12 a.m. on Fridays, Saturdays and bank holidays.
Banks are open from 8.30 a.m. to 1.30 p.m.